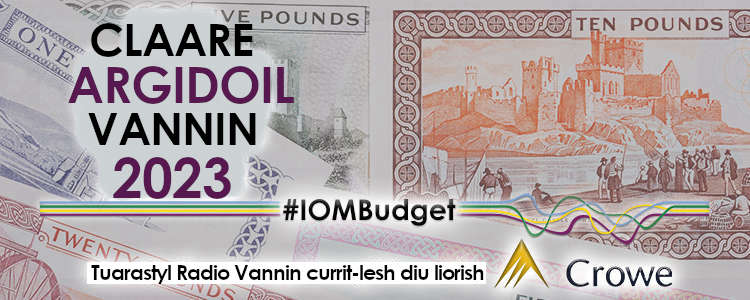 Claare vun-argidoil cur stiagh £230m harrish ny queig bleeaney shoh cheet
Claare Argidoil Ellan Vannin 2023
Ta claare vun-argidoil cur stiagh ny shlee na £230m harrish ny queig bleeaney shoh cheet dy livrey skeimyn coardit y Reiltys Meanagh as dy chur er oaie deanyn Plan Nyn Ellan.
Va myn-phoyntyn er nyn soilshaghey magh myr ayrn jeh fograghyn Claare Argidoil y Hirveishagh Tashtee, goaill stiagh cur er bun oardagh noa dy lowal rish dagh raiee dy hareaghey plannal argidoil as ve kiart.
Ta cur argid ayns claare ny bleeaney shoh goaill stiagh £2.3m ry hoi livrey yn Ynnyd Cur Sheese bentyn da Soaighey Er Keintyssagh, £3.36m elley cour saaseyn dy hareaghey Calloo yn Edward VIII, £495,000 son shamyryn brastyl ry scughey as £780,000 elley son cullee radi-oaylleeagh ayns Thie Lheiys Noble.
Nee'n Tashtey Caghlaaee bentyn da Caghlaa Emshyraght geddyn £5.4m elley ry hoi cooney dy choadey yn Ellan as y bun-troggalys echey veih eiyrtyssyn cummaghyn caghlaaee yn emshyr dowanagh.
Nee baih argid ayns moggyl raaidey yn Ellan cur stiagh £6.125m ry hoi shareaghey as jannoo ass-y-noa myr ayrn jeh skeim rollal, choud's bee £1.155m ry gheddyn son cummal seose strughtooroil.
Ta'n Shirveishagh Tashtee yn Fer Lhee Alex Allinson gra: 'Ta shin er n'yeeraghey er croo claare bun-argidoil vees rieughagh as ry livrey as bee argid currit da dy slane ass argid cheet stiagh 'sy traa meanagh. Cha nel agh skeimyn bio er ve goit stiagh 'syn ard-chlaare as adsyn as t'ad feme studeyryssyn sodjey er vel ad ry chooilleeney as er kiaddey, t'ad er ve aa-churrit da'n Tashtey ry hoi Lhiasaghey Shalee. Ta £8m elley er ve currit stiagh 'sy tashtey dy chummal seose y caghlaa shoh.'
Ta kione er ve currit nish er aa-scrutaght jeh'n aght ta'n chlaare currit er bun as ta argid currit stiagh ayn, as yn dean dy yannoo ny s'rea as noa-emshiragh yn ayrn bun-argidoil jeh'n oardagh dy aarlaghey y Chlaare Argidoil. Lesh ny eiyrtyssyn jeh Myn-Vrishey Strateishagh er Femeyn y Vun-Troggalys dy chur slane toiggalys er currymyn y Reiltys ayns reirey couyryn harrish ny jeih bleeaney gys feed blein shoh cheet, nee'n aa-scrutaght cur ablid son cur faaishnys as plannal argidoil share.
Roish nish ren Rheynnyn cur stiagh chebbyn son cosney bun-argid Mee Luanistyn ny Mean Fouyir dagh blein son sur-smooinaghtyn er myr ayrn jeh Claare Argidoil ny bleeaney er-giyn. Hug shoh agh un chaa ayns blein as magh ass haink taghyrtyn jeh cooishyn dellal coardit cheet dy ve neu-chiart trooid caghlaaghyn da femeyn y halee as da costyssyn – er yn eer gherrid as bishaghey bieau ayns bolgey argidoil jannoo orroo.
Maghey'n vlein shoh, bee oardagh dagh raiee ry hoi cur kied currit er bun cour skeimyn bun-argidoil Toshiaght Arree – myr ayrn jeh'n chlaare argidoil vleinoil – chammah's Mean Souree, Mean Fouyir as Mee Houney. Bee skeimyn lhieusyn t'eh er jeet cosney trooid yn oardagh bentyn da kiaddey as vel ad ry chooilleeney reihalagh son geddyn kied, vees ny lhie er yn oardagh femoil son coardail.
Dinsh yn Shirveishagh Tashtee da Olteynyn: 'Ta shin cur enn er dy bee skeimyn goll er lhiasaghey car ny bleeaney as er yn oyr shen ta shin cur roish caghlaa bunnidagh 'syn aght ta skeimyn bun-argidoil cheet dy ve coardit. Ta shin credjal dy jean shoh shareaghey yn oardagh ain son plannal argidoil as dy jean shoh shickyr nagh vel agh skeimyn lhiasit dy bollagh currit roish Tinvaal son coardail as cur bree daue.'

Isle of Man Budget 2023
A capital programme commits more than £230m over the next five years to deliver approved Central Government schemes and progress the aims of Our Island Plan.
Details were revealed as part of the Treasury Minister's Budget announcements, including the introduction of a new quarterly approvals process to improve financial planning and accuracy.
Funding in this year's programme includes an additional £2.3m to deliver the Sexual Assault Referral Centre, an additional £3.36m for improvements to King Edward VIII Pier, £495,000 for mobile classrooms and a further £780,000 to support the replacement of radiology equipment at Noble's Hospital.
The Climate Change Adaptation Fund will receive a further £5.4m to help protect the Island and its infrastructure from the effects of changing global weather patterns.
Investment in the Island's highway network will see £6.125m committed to improvements and refurbishment as part of a rolling scheme, while £1.155m will be available for structural maintenance.
Treasury Minister Dr Alex Allinson MHK said: 'We have focussed on the creation of a realistic and deliverable capital programme which will be fully funded from revenue in the medium term. Only active schemes have been included in the main programme and those that require further feasibility studies and design have been redirected to the Project Development Fund. The fund has been provided with an additional £8 million to support this change.'
A review of the way the programme is established and funded, aimed at streamlining and modernising the capital element of the Budget process, has now been completed. Along with the results of a Strategic Infrastructure Needs Analysis to provide a full understanding of Government's asset management commitments over the next 10 to 20 years, the review will enable improved forecasting and financial planning.
Departments previously submitted bids for capital funding in August or September each year for consideration as part of the following year's Budget. This provided a single opportunity in a year and led to incidents of approved business cases becoming inaccurate through changes to project requirements and costs – most recently affected by a rapid rise in inflation.
From this year, a quarterly approval process will be introduced for capital schemes in February – as part of the annual budget – as well as June, September and November. Schemes that have successfully passed through the design and feasibility process will be eligible for approval, subject to the necessary agreement process.
The Treasury Minister told Members: 'We recognise that schemes will be developed throughout the year and are therefore proposing a fundamental change to the way that capital schemes are approved. We believe that this will improve our financial planning process and ensure that only fully developed schemes are presented to Tynwald for approval and implementation.'