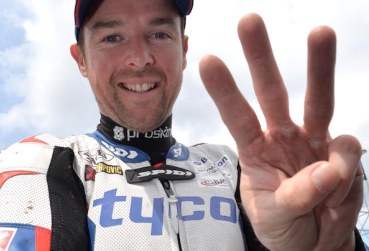 Northern Ireland rider Alastair Seeley dominated qualifying for the North West 200 and is on pole position in three of the four classes.
Riding the Tyco BMW, he topped the Superbike class at 121.552mph ahead of Lee Johnston and John McGuinness.
Conor Cummins was 9th, Dan Kneen 19th and Dave Madsen-Mygdal 50th.
In the Supersport - it was Seeley again in front of Bruce Anstey and William Dunlop who walked away from a high-side crash but may not race this evening.
Conor Cummins is 12th and Dan Kneen 13th.
Seeley was quickest too in the Superstock at 120.196mph ahead of Michael Dunlop and Lee Johnston.
Dan Kneen was 17th fastest, Conor Cummins 19th and Dave Madsen-Mygdal 47th.
Ryan Farquhar is on pole for the Supertwins - Dave Madsen-Mygdal starts from 19th position.
But the main headlines were made off-track by Guy Martin who had a rant on BBC Northern Ireland about the chicanes that have been introduced in recent years to improve safety:
There are three races this evening with roads around the Triangle Circuit closing at 6pm.