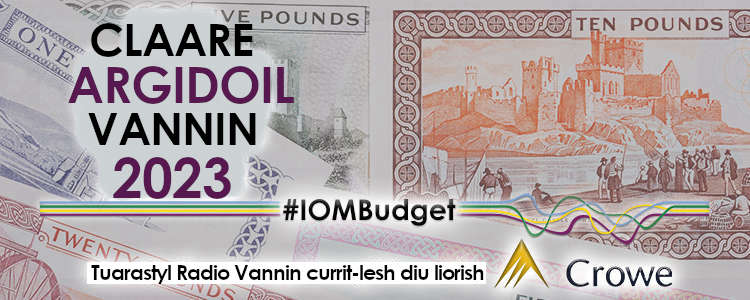 Cre'n aght ta'n argid ain goll er baarail ec yn Reiltys?
Claare argidoil Ellan Vannin 2023
Ta baarail argid jannoo seose £15, 243 per peiagh
Ta'n sym jeh baarail ooilley cooidjagh as faaishnys er son 2023-24 jannoo seose mysh £15,243 son dagh dooinney, ben as paitchey ayns pobble Vannin.
Ta'n earroo shoh per peiagh goaill stiagh:
£4,538 cour eeckys Kiarail y Theay jeh'n lheid as Pension y Steat, Pohlldal Cheet Stiagh as Cooney Cadjin Argidoil son Paitchey as ry hoi rheynn tashtaghyn yn Urryssaght Ashoonagh er yn Chirveish Claynt Ashoonagh
£3,787 cour Shirveishyn Slaynt as Kiarail y Theay, as jeh shoh ta £1,651 bentyn da Thie Lheiys Noble, £762 da Kiarail Bunnidagh, £748 da Shirveishyn Kiarail y Theay, £227 ry hoi cur oardaghyn lhee ny druggaghyn nastee ny lesh argid coonee currit daue as £232 ry hoi cur lheiys da surransee Vannin 'sy Reeriaght Unnaneysit
£1,592 da'n Ynsagh, goaill stiagh £129 cour taillaghyn olloo scoill
£474 cour ny Meoiryn Shee, Aile, Pryssoon as ayrnyn elley jeh'n Rheynn Cooishyn Sthie
£266 ry hoi cummal seose yn Rheynn Chymmyltaght, Bee as Eirinys, goaill stiagh yn Oik Dellal Cairagh as y Ving Kiedyn Arraghey Raad
£180 Baarail Glen (lurg argid cheet stiagh) cour Arraghey Theayagh as Raaidyn Yiarn Eiraght
£141 ry hoi Reirey Orch, chammah's £80 punt elley vees goll er chymsaghey ec lughtyn-reill ynnydoil ny taillaghyn er orch veih dellal
£87 son Shirveishyn Spoyrtyn, Soccar as yn Aegid, goaill stiagh cur argid coonee da loghanyn snaue ardynagh
£43 son Cultoor, goaill stiagh y Villa/Gaiety

Isle of Man Budget 2023
Spending equates to £15,243 per person
Total Government gross spending projected for 2023-24 equates to around £15,243 per head for every man, woman and child of the Island's population.
This per person figure includes:
£4,538 for Social Security payments such as the State Pension, Income Support and Child Benefit and allocation of National Insurance funds towards the NHS
£3,787 for Health and Social Care Services, of which £1,651 relates to Noble's Hospital, £762 for Primary Care, £748 for Social Care Services, £227 for providing free or subsidised prescriptions or drugs and £232 for treating Manx patients in the United Kingdom
£1,592 for Education, including £129 for University Fees
£474 for the Police, Fire, Prison and other parts of the Department of Home Affairs
£266 for supporting the Department of Environment, Food and Agriculture, including the Office of Fair Trading & Road Transport Licencing Committee
£180 Net Expenditure (after income) for Public Transport and Heritage Railways
£141 for Waste Management, in addition a further £80 raised via local authorities or business waste charges
£87 for Sports, Recreation and Youth Services, including subsidising regional swimming pools
£43 for Culture, including the Villa/Gaiety