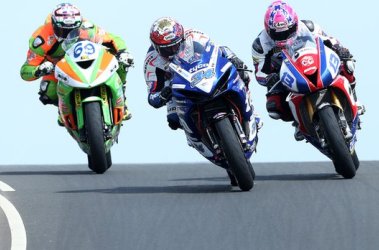 A fortnight before the start of TT 2015, Alastair Seeley has equalled Robert Dunlop's all-time North West 200 record of 15 triumphs.
That's after he clinched two more victories in Northern Ireland yesterday (Saturday, May 16th).
He held off newcomer Glenn Irwin and Lee Johnston to win a Supersport thriller before beating Ian Hutchinson, Bruce Anstey and Michael Dunlop in the first Superbike race.
21-time TT winner John McGuinness was sixth in that race.
Elsewhere, Johnston pipped Seeley in the Superstock class with Hutchinson third.
And veteran Jeremy McWilliams earned a Supertwins triumph as home riders won all the week's six races.