Government won't ask for further episodes to be dropped
Island-based documentaries such as the 'Best Little Prison in Britain?' have led to increases in tourism.
That's according to Chief Minister Howard Quayle, following a range of questions about the Isle of Man Prison series from Arbory, Castletown and Malew MHK Jason Moorhouse - 20 in total.
Mr Quayle revealed similar productions made by the same company on other islands have led to a rise in tourist numbers.
The opening episode of the six-show series was watched by 3.6 million viewers, which was 23% of the total TV audience.
Government confirmed it has no editorial control over the documentary, although the prison governor, home affairs minister and DHA chief executive all watched some footage before it was broadcast.
It adds that there is no wish or need to prevent further episodes from airing.
No financial compensation or benefit has been paid to government, prisoners or prison staff for their involvement.
The Council of Ministers has discussed the series four times between May and August. An assessment on the coverage will be conducted once all six episodes have been aired.
Home Affairs Minister Bill Malarkey revealed the average prisoner earns a weekly wage of £11.50, around £3.85 of which is spent on confectionary in the prison's shop.
Offenders don't have to pay to use the Jurby facility's gym, but renting a TV for their cell costs £1.40 per week.
All of the above information was revealed in answers to Tynwald questions - you can view the 132 written responses in full here.
Prior to the release of those answers, Mr Moorhouse spoke to Dollin Mercer about his questions, and the reasons for submitting them:
"Questions are meant to have a genuine reason behind them."
"Most of those could have been answered by a simple email."
One of Mr Moorhouse's Tynwald colleagues, Rob Callister MHK, took to social media to voice concerns about some of the queries this month.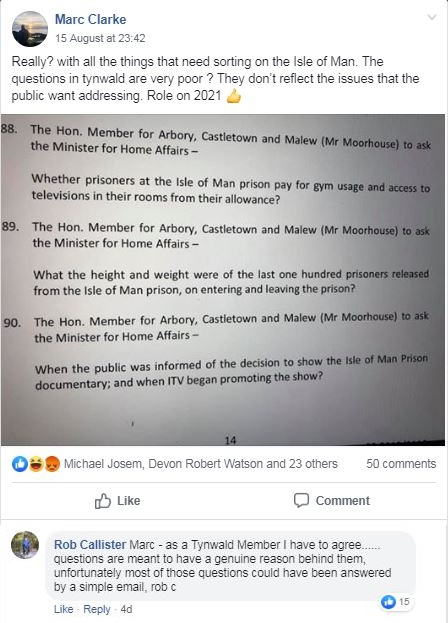 He told Dollin why: